Affordable, scalable, secure: Amazon Web Services

Instant video: Content delivery networks

Mobile access to content: Responsive web design

Not reinventing the wheel: Frameworks

Aimed relaunch: Web strategy

Addressing target groups individually: WebCRM

Intuitive user guidance: User experience

Thinking of users: Usability

Being found by Google, Bing and Yahoo: SEO

Simple web content maintenance: Professional CMS

Realizing web projects speedily: Ruby on Rails

Dialog on the web: E-mail marketing

Next-generation websites: SaaS applications

Realizing websites in sprints: Agile projects

Generating leads on the web: Content marketing
Infopark powers great websites.
---
CMS Fiona 7
CMS Fiona, version 7: Next to the effectivity known from earlier versions, Infopark CMS Fiona 7 offers true in-place editing. It lets you create interactive and dynamic websites even faster.
---
---
---
Scrivito: Cloud CMS
Scrivito is a platform as a service for developing and driving websites. The Cloud CMS includes everything professional websites require. Our services enable our partners and their developers to integrate the CMS and the WebCRM with their personalized websites based on Ruby on Rails.
---
---
Our Services
Our core competence is consulting in the area of web presences and cloud services. Based on our CMS and WebCRM software, our spectrum ranges from requirements definitions to  turnkey web projects. Our solutions integrate software and platform services, online marketing and consulting around tailored Ruby on Rails applications.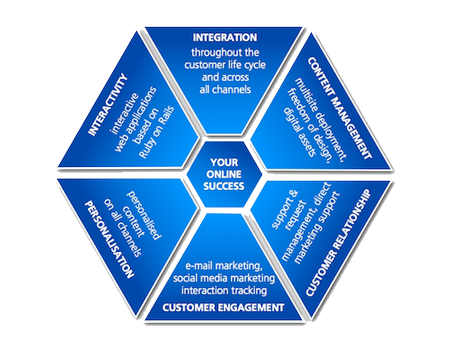 ---
Reference Project
Dortmund Airport
Best-of-Breed

Due to dynamic scaling and the best-of-breed approach, the extensively renewed web presence of Dortmund Airport now offers customer service to the maximum. One of our partners, Pinuts, realized the relaunch using our Scrivito Cloud CMS.
Events
Upcoming Event
relaunch conf, April 20th, 2015 in Cologne

The relaunch conference focuses on solutions for those responsible for continuously increasing the success of their websites and optimizing digital business processes.
Blog
Latest Blog Post
Web relaunch made easy

The web strategy cycle is in its second last phase. However, don't rush anything when implementing the web relaunch. How to best proceed in a web project, and how to realize a web project systematically?